About Us
Euro Chicken is a Chicken takeaway in Dover. Why don't you try our Large Side or Crispy Strips?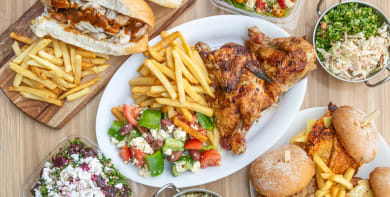 Reviews
194 reviews
dave
"Fresh hot n tasty"
23/01/2021
Kevin
"As always excellent"
22/01/2021
Heidi
"Would have much rather preferred it to be piping hot"
12/01/2021
Heather
"Chips were a little cold but other than that, all good"
28/12/2020
Menu
Quarter Pounder Burger
With fries & drink
£5.73
Half Pounder Burger
With fries & drink
£6.88
Veggie Burger
With fries & drink
£5.73
Variety Combo Meal Bucket 06 Pieces
Includes 6 spicy wings, 6 crispy strips, 4 regular fries, any 2 large sides & 1.5L drink
£18.38
Variety Combo Meal Bucket 08 Pieces
Includes 6 spicy wings, 6 crispy strips, 4 regular fries, any 2 large sides & 1.5L drink
£20.68
Variety Combo Meal Bucket 10 Pieces
Includes 6 spicy wings, 6 crispy strips, 4 regular fries, any 2 large sides & 1.5L drink
£22.98
Variety Boneless Bucket 06 Pieces
Includes 2 portions of nuggets, 4 regular fries, any 2 large sides & 1.5L drink
£16.08
Variety Boneless Bucket 08 Pieces
Includes 2 portions of nuggets, 4 regular fries, any 2 large sides & 1.5L drink
£17.23
Variety Boneless Bucket 12 Pieces
Includes 2 portions of nuggets, 4 regular fries, any 2 large sides & 1.5L drink
£20.68
Family Burger Deal
4 Pieces chicken
4 Quarter pounders
4 Regular fries
1.5L drink
£20.68
Large Side Corn on the Cob
Burger Box
1 Chicken burger
1 Piece chicken
Regular fries
Can of drink
1 Side
£6.88
Mixed Box
1 Chicken burger
2 BBQ Wings
2 Spicy wings
Regular fries
Can of drink
1 Side
£6.88
BBQ Box
1 BBQ Burger
2 BBQ Wings
Regular Fries
Can of drink
1 Side
£6.88
Euro Special Box
1 Chicken burger
1 Piece chicken
2 Spicy wings
Regular fries
Can of drink
1 Side
£7.46
Ben & Jerry's 500ml Caramel Chew Chew
£6.31
Ben & Jerry's 500ml Chocolate Fudge Brownie
£6.31
Ben & Jerry's 500ml Cookie Dough
£6.31
BBQ Ribs 04 Pieces
4 or 6 BBQ ribs
Fries & drink
£5.73
BBQ Ribs 06 Pieces
4 or 6 BBQ ribs
Fries & drink
£7.46
BBQ Wings
6 BBQ Wings
Fries & drink
£5.73
BBQ Strips
55 BBQ Strips
Fried & drink
£6.88
BBQ Burger
BBQ Burger
Fries & drink
£5.73
BBQ Chicken 02 Pieces
2 or 3 Pieces chicken
Fries & drink
£5.04
BBQ Chicken 03 Pieces
2 or 3 Pieces chicken
Fries & drink
£6.31
Half Peri Peri Chicken Rice
With rice or fries & drink
£8.03
Quarter Peri Peri Chicken Rice
With rice or fries & drink
£5.50
Quarter Peri Peri Chicken Fries
With rice or fries & drink
£5.50
Half Peri Peri Chicken Fries
With rice or fries & drink
£8.03
Family Meal
Whole chicken
With 2 rice
1 Fries
Salad
1.5L drink
£12.63
Family Variety
Whole chicken
6 Peri peri wings
6 Peri peri strips
2 Rice
1 Fries
Salad
1.5L drink
£19.53
Chicken Burger Rice
Peri peri wings burger with rice or fries & drink
£5.16
Chicken Burger Fries
Peri peri wings burger with rice or fries & drink
£5.16
Chicken Strips (3) Rice
Peri peri strips with rice or fries & drink
£5.50
Chicken Strips (3) Fries
Peri peri strips with rice or fries & drink
£5.50
Chicken Strips (6) Rice
Peri peri strips with rice or fries & drink
£7.46
Chicken Strips (6) Fries
Peri peri strips with rice or fries & drink
£7.46
Chicken Fillet Burger Regular
Chicken fillet burger
Fries & drink
£5.39
Chicken Fillet Burger Spicy
Chicken fillet burger
Fries & drink
£5.39
Tower Fillet Burger Regular
Chicken fillet burger with hash brown & cheese
Fries & drink
£5.96
Tower Fillet Burger Spicy
Chicken fillet burger with hash brown & cheese
Fries & drink
£5.96
Fillet Combo Regular
Chicken fillet burger
1 Piece chicken
Fries & drink
£6.88
Fillet Combo Spicy
Chicken fillet burger
1 Piece chicken
Fries & drink
£6.88
Chicken Wrap
Tortilla wrap with crispy strips
Fries & drink
£5.73
Spicy Wings
6 Spicy wings
fries & drink
£5.16
Crispy Strips 03 Pieces
3 or 6 crispy strips fries & drink
£5.73
Crispy Strips 06 Pieces
3 or 6 crispy strips fries & drink
£7.69
Nuggets
6 Chicken nuggets
Fries & drink
£5.16
Chicken Poppers Regular
Chicken poppers
Fries & drink
£4.58
Chicken Poppers Large
Chicken poppers
Fries & drink
£5.73
Kids 1 Piece Chicken
With fries & drink
£4.01
Kids 2 Pieces Strips
With fries & drink
£4.01
Kids 4 Chicken Nuggets
With fries & drink
£4.01
Kids Cheeseburger
With fries & drink
£4.01
Kids Chicken Poppers
With fries & drink
£4.01
Peri Peri Chicken Strips 03 Pieces
£3.43
Peri Peri Chicken Strips 06 Pieces
£6.31
Peri Peri Wings 06 Pieces
£3.43
Peri Peri Wings 12 Pieces
£6.31
6 Pieces Chicken with 4 Fries
£12.06
8 Pieces Chicken with 4 Fries
£13.78
10 Pieces Chicken with 4 Fries
£16.08
14 Pieces Chicken with 6 Fries
£19.53
Family Bucket 08 Pieces
Includes 4 regular fries any 2 large sides & 1.5L drink
£16.08
Family Bucket 12 Pieces
Includes 4 regular fries any 2 large sides & 1.5L drink
£19.53
Family Bucket 16 Pieces
Includes 4 regular fries any 2 large sides & 1.5L drink
£22.98
Variety Family Bucket 08 Pieces
Includes 6 spicy wings, 6 BBQ ribs, 4 regular fries, any 2 large side & 1.5L drink
£20.68
Variety Family Bucket 12 Pieces
Includes 6 spicy wings, 6 BBQ ribs, 4 regular fries, any 2 large side & 1.5L drink
£24.13
Variety Family Bucket 16 Pieces
Includes 6 spicy wings, 6 BBQ ribs, 4 regular fries, any 2 large side & 1.5L drink
£27.58
Chicken Meal 02 Pieces
2 or 3 Pieces chicken
fries & drink
£4.81
Chicken Meal 03 Pieces
2 or 3 Pieces chicken
fries & drink
£6.08
Mini Variety
1 Piece chicken
3 BBQ Ribs
fries & drink
£5.73
Variety Meal
3 Pieces cicken
1 BBQ Rib
2 Spicy wings
Fries & drink
£6.88
Contact Us
Find Us
42 High Street, Dover, CT161EE